Intera exits Merivaara by a sale to Lojer
02.06.2022
Intera is pleased to announce its exit from Merivaara Group as Lojer Oy, a Finnish hospital furniture manufacturer, acquires the group. During Intera's holding period, which began in 2013, Merivaara has developed into a world-class specialist in easy-to-use operating room systems and solutions, and expanded its international distribution network. Merivaara continues its international growth as part of Lojer.
Merivaara Group is a pioneer in intuitive healthcare technology and industrial design, with a particular focus on solutions that support operating room operations. The company was established in 1901, and started manufacturing metal beds, which improved hospital hygiene significantly. Today, Merivaara's systems, equipment and services improve patient safety and increase the quality and efficiency of surgical treatment in leading international hospitals.
"Merivaara combines a heritage of being a trusted equipment supplier to the healthcare sector since the early 1900s, with internationally recognised technological expertise. During Intera's holding period, the company has developed into a world-class specialist in surgical products and solutions with a special focus on user-friendliness. Merivaara's strong product portfolio and investments in its distribution network have helped the company to expand in international markets. With Lojer, the conditions for further international growth are excellent," says Christoffer Zilliacus, Partner at Intera Partners.
"The transaction is strategically important to Lojer. We will add new product groups to our portfolio, such as operating room luminaires, control systems and roof centers. Merivaara has an extensive portfolio of patents and trademarks, and together we can invest even more in product development. The acquisition also makes us more international and opens new export markets to England, Germany, and the United States, among others. Our goal is to become an even more interesting partner for both hospitals and distributors of health technology products," said Ville Laine, CEO of Lojer.
Merivaara will become a subsidiary of the Lojer Group, and all of Merivaara's approximately 60 employees in Finland and Sweden will continue to work for Merivaara. Production will continue in Lahti, and co-operation with customers and partners will continue as before.
The parties have agreed not to disclose the financial details of the transaction.
For further information, please contact:
Christoffer Zilliacus
Partner, Intera Partners
christoffer.zilliacus@interapartners.fi
+358 40 559 56 38
Intera Partners is a Finnish private equity firm with a focus on growth and internationalisation. Intera manages three active funds with a total capital of EUR 785 million. The funds are invested in a total of 11 portfolio companies with approximately 11,000 employees and a combined revenue of EUR 900 million. www.interapartners.fi
Merivaara Group is a pioneer in intuitive health technology and industrial design, with a particular focus on solutions that support operating room operations. The base for long-standing customer relationships date back to 1901, when the company started manufacturing iron hospital beds, significantly improving hospital hygiene. Today, the company's software, equipment and services improve patient safety and increase the quality and efficiency of surgical care in the world's leading hospitals. Merivaara's headquarters, manufacturing and product development are located in Lahti, Finland. The company operates in more than 120 countries and employs approximately 60 people. www.merivaara.fi
The Lojer Group is the largest manufacturer of hospital and medical furniture and a provider of lifecycle services in the Nordic countries. Together with its subsidiaries, Lojer is the leading distributor of physiotherapy equipment and supplies in the Nordic countries. The company's factories in Sastamala, Hollola and Kempele produce, among other things, hospital beds and operating, examination and treatment tables. Founded in 1919, the company employs around 270 people after the acquisition and is the largest Finnish employer in the sector. Turnover excluding the impact of the acquisition is more than EUR 43 million and after the transaction almost EUR 60 million. Exports account for around 65 per cent of Lojer's total production and around 95 per cent of its operating tables. www.lojer.com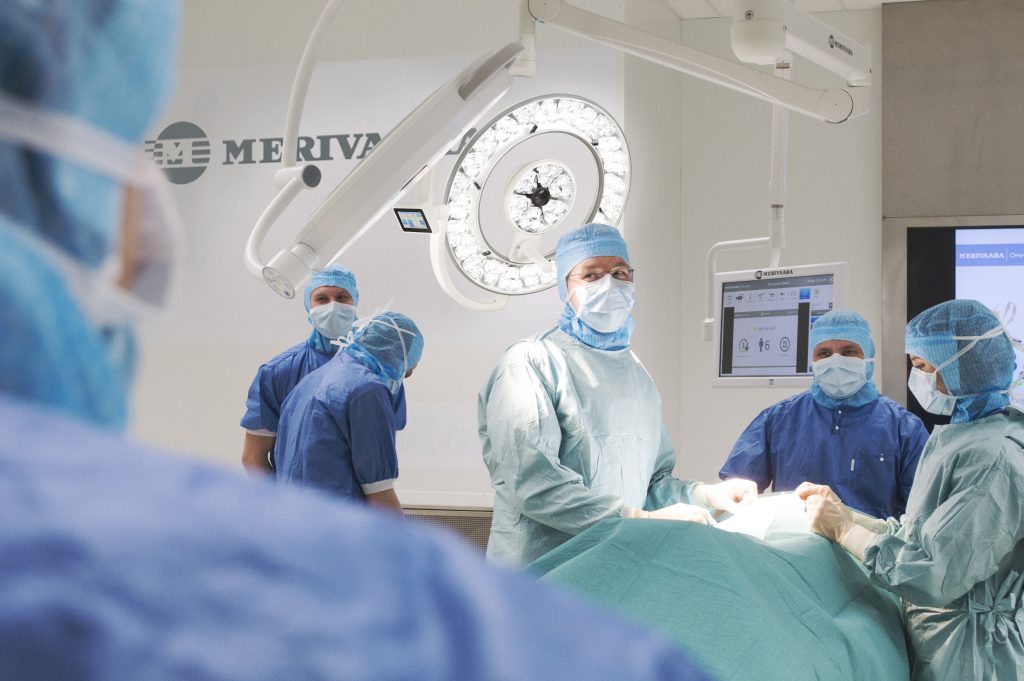 Photo: Merivaara