Polarica
Food industry
Polarica is Europe's leading supplier of wild berries as well as game meat such as reindeer and elk. Customers in the Nordics, Europe and globally include the food industry, restaurant wholesalers, retailers and the pharmaceutical industry.
Polarica has its head office in Haparanda and processing plants in Sweden, Finland and Poland as well as sourcing operations in Russia. In 2017, Polarica's turnover was 80 million euros.
Entrepreneur's story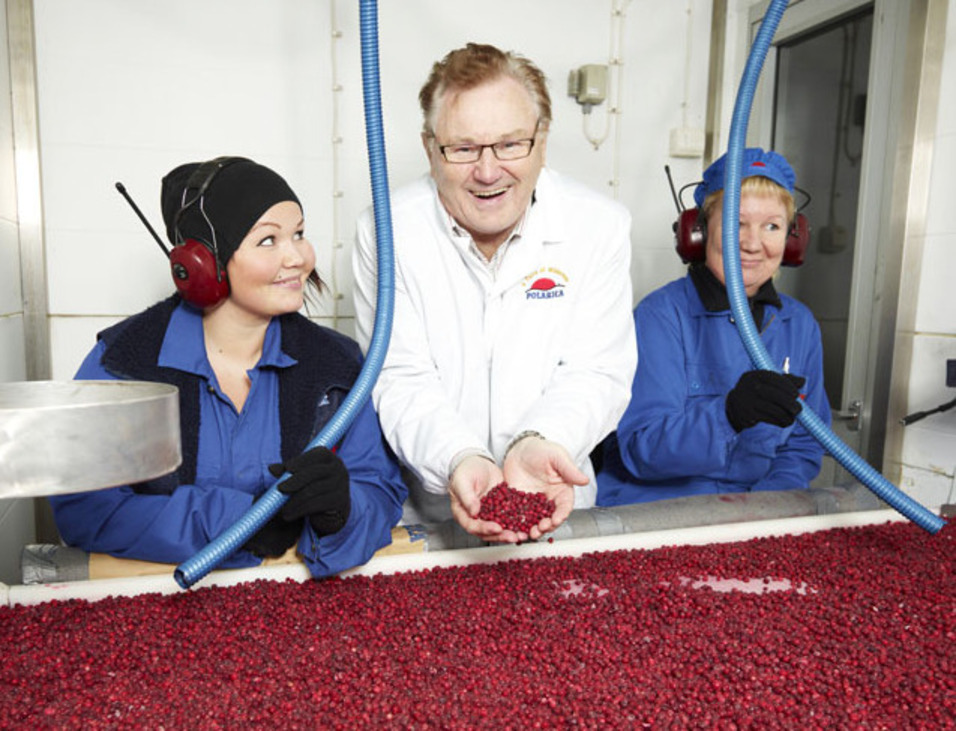 After a break of several months, Allan Lehto is once again walking around Polarica's plant. True to his principles, he gives a hug to each woman and shakes hands with all the men. Although the location is in Sweden, and Haparanda, Allan is greeted everywhere with the cheerful Finnish call, "Terve Allanti!".
According to Allan Lehto, a company needs to have a soul. That soul is indeed easy to perceive when you join Allan for a walk around the production facilities of Polarica, which specializes in the processing of berries and reindeer meat. "The head of a capitalist and the heart of a philanthropist." That's the kind of entrepreneur Allan has strived to be. At times, the philanthropist has overpowered the capitalist; thanks to Allan, truckloads of clothes and other goods flowed over to Russia and Karelia during their leanest years, while too heavy investments in the 1990s almost toppled the entire company.
After 18 months of discussions, and his 73rd birthday, Allan was ready to accept Intera's proposal. His own children were not interested in continuing the business. On the other hand, his experience of a 15 percent ownership by a Swedish pension institution had been so positive that his decision to sell started to take shape, especially since that same institution was one of Intera's investors.
Read more
Hide
Related news
31.12.2019
Intera Fund I Ky has sold its shares in berry and game meat producer Polarica to an investor consortium. During…
Read more
01.07.2011
The merger of Intera's portfolio company Polarica and Finnish Lapin Liha Oy has been completed. The acquisition supports Polarica's strategy…
Read more
07.10.2010
Intera Fund I, advised by Intera Equity Partners, acquires a majority of the shares in the Swedish berries and wild…
Read more