Delete
Environmental services
Delete specializes in environmental services for industry, construction and real estate clients. The company's services include industrial cleaning services, heavy and special demolition services as well as recycling and waste management services. In 2012, Delete employed nearly 700 environmental services professionals in 27 locations in Finland, Sweden and Lithuania, and the pro forma turnover of the business amounted to approximately EUR 100 million.
Delete was built by Intera and the entrepreneurs over three years through 15 mergers and acquisitions. Intera exited Delete in August 2013 to a Danish private equity investor Axcel.
Entrepreneur's story
It's the attitude that counts – not education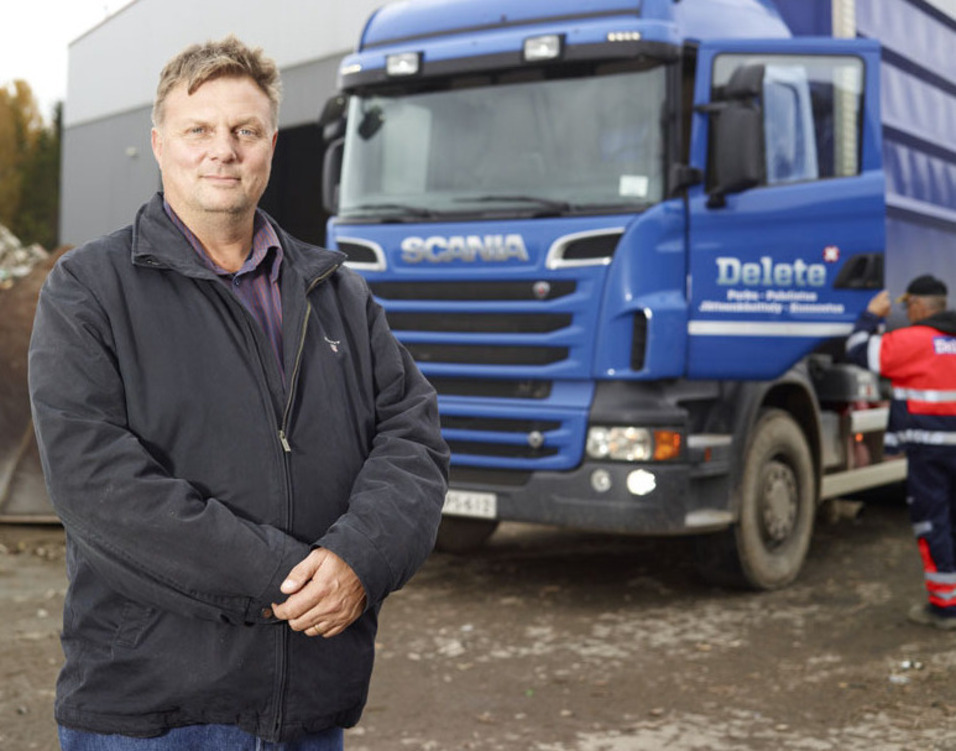 Delete's Antero Toivonen has a very hard time accepting the claim that today's world would not offer many opportunities for success for those without a college degree. He also has first-hand evidence that supports his opinion: being an entrepreneur on the basis of vocational education from the age of 22 – and a successful one.
In a matter of 20 years, Toivonen, who started his own company during the recession after being employed as a trucker by the City of Tampere, created one of the most successful companies in the Tampere region from scratch. During that same 20 year period, the net sales of the company that specializes in demolition and waste processing services offered to the construction sector rose from zero to EUR 14 million. Nowadays, Antero Toivonen's company works from a four hectare plot in Rusko, Tampere, as part of Delete Group.
Entrepreneurship is in Toivonen's genes. His father was in the scrapyard business. Toivonen-Yhtiöt Oy was established in 1995. To begin with, Toivonen only had one truck. After he won his first large-scale demolition contract, he bought an excavator. After that, the business has grown at a rapid and steady pace. The biggest annual increase in net sales over the years has amounted to more than 150 percent.
Promises are meant to be kept
When asked what makes an entrepreneur successful, Antero has a clear answer: "Excessively hard work. Only the hours you sleep are not your working hours."
"Our customers have to be able to trust us. Therefore, what's promised has to be kept. I do not want to go to a client with explanations about why we failed. If my client wants a demolition job to be finished over the weekend, it'll be ready by Monday morning.That's all there is to it. Keep customers happy."
In a highly competitive line of business, cost-effectiveness is another prerequisite for success. The fact that the most economical offer will win a contract means that operations need to be efficient, particularly in terms of costs. "Machines and employees alike need to be first-rate."
Toivonen had given private equity investors very little thought before being approached by Intera.
"They don't make a lot of noise about themselves. That's why my understanding of them was so vague as well. I don't feel comfortable among people in suits. But Intera's guys, Vesku and Näränen, are very down to earth, and that suits me just fine. My hands have not been tied. Even today, no one expects me to spend time at irrelevant meetings. Rather, I'm out there in the field, making deals. I can also continue to develop operations at a steady pace. The only difference is that I now have a partner with whom to do it. I am still motivated by the same things as when I first started: continuous development and progress."
(Tehoc)+(Toivonen-yhtiöt)+(12 other companies) = Delete Group
Intera has been managing quite the transaction circus while building Delete Group. Tehoc, founded by Ronnie Neva-aho, and Antero Toivonen's Toivonen-yhtiöt are referred to as Delete's platform companies – the companies that form Delete's foundation. In addition to these two companies, Delete has been joined by 12 other companies that operate in the environmental services business.
"Intera made the first move. At the time, Tehoc had already been operating as an industrial cleaning services company for 12 years. So Antero Toivonen and I got together and talked about whether demolition and cleaning activities could be integrated. It was on the basis of these discussions that we started constructing Delete's industrial vision," says Ronnie Neva-aho.
"In the beginning, I had my doubts as to whether the private equity investor's competence would be sufficient enough to yield added value. But by now I can already tell you that it has yielded plenty."
According to Neva-aho, Intera's greatest contributions have been evident in its participation in the promotion of growth, financing, acquisitions, growth management, and in the professional board work.
Success is the product of an entrepreneurial attitude
In addition to professional management, Neva-aho considers an entrepreneurial drive to be a vital element of success for Delete.
"Intera built us an entrepreneurial concept, in which key individuals invest in the company and commit to its growth. Fourteen companies and entrepreneurial stories have been fitted together remarkably well and placed within Delete's competent management system in a controlled way."
Ronnie enjoys his current role of being part of a bigger entity and his job as a manager of a larger company.
"It's great to be implementing our industrial vision as part of a team. We've already accomplished the goals we set for ourselves when we were in the process of forming Delete Group. The only difference to the original plan is that it didn't take us five years as planned. Rather, we were able to achieve our five-year goals in a matter of two years."
At the moment, Delete Group employs approximately 600 environmental services professionals. The Group's consolidated net sales in 2012 totaled nearly EUR 100 million.
Read more
Hide
Related news
30.08.2013
Delete Group Oy, a leading environmental services provider for the industrial, construction and real estate sectors in Finland, Sweden and…
Read more
16.01.2013
Delete Group, a leading Nordic company in environmental services, with operations in Finland and in Northern Sweden, has recently expanded…
Read more
04.01.2013
Delete Group, a leading Nordic environmental services company with operations in Finland and in Northern Sweden, will expand its operations…
Read more
26.01.2011
Delete Group, a leading Finnish environmental services company, will expand to Sweden through a merger with Sanvac Miljö Ab, an…
Read more
04.11.2011
   Delete Group Oy acquires ISS Teollisuuspalvelut Oy from ISS Palvelut Oy, the Finnish subsidiary of ISS A/S. ISS Teollisuuspalvelut…
Read more
10.06.2011
Delete Group (formerly YP Holding) has acquired three environmental service companies – Lifa Palvelut, ASB Group and Enviroc. Following the…
Read more